百草丸プラス Hyakusogan-Plus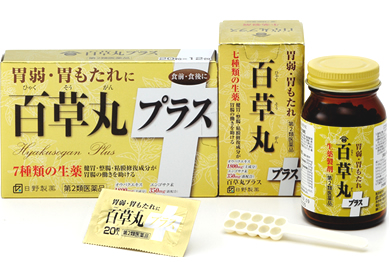 Gastrointestinal medicine
Hyakusogan-Plus
A class 2 OTC drug


---
■Hyakusogan-Plus
Hyakusogan-Plus is a gastrointestinal medicine. It contains 7 kinds of crud drugs.
Hyakusogan-Plus improves the symptoms caused by excessive drinking and eating, dyspepsia, heart burn, indigestion and nausea. It is also effective for improving the symptoms of stomach upset, such as loss of appetite and dyspepsia due to minor changes and stress in daily life, as well as heavy stomach sensations and abdominal bloating associated with fatigue or aging.
Hyakusogan-Plus contains phellodendron bark extract, powdered preparations of zedoary, atractylodes rhizome, Japanese gentian and swertia herb, which improve stomach function. These stomachic crude drugs stimulate gustatory and olfactory senses and enhance the secretion of saliva and gastric juice with their bitter tastes and fragrances. It also contains powdered geranium herb, which controls bowel movements. Furthermore, powdered corydalis tuber, which protects the mucosa and repairs inflammation, has been added as a new component. This component can reduce mucosal damage induced by bad habits in daily life.
Hyakusogan-Plus is a crude drug product containing these stomachic, gastrointestinal function-controlling and mucosa-restoring components in a well-balanced manner without any synthetic agents. Therefore, it safely controls gastrointestinal functions and relieves unpleasant symptoms through its mild action on the weakened digestive tract.
In addition, to increase its stomachic effect, the surface of Hyakusogan-Plus pills is coated with phellodendron tincture so that a bitter taste appears in the mouth immediately after taking it. Our pills are formulated to make the best use of the bitter taste peculiar to crude drugs, despite the fact that regular pills are coated to make them easy to take by reducing bitterness in general.
It has been empirically proven that all of the crude drugs contained in Hyakusogan-Plus are highly effective and safe with less adverse effects. Hyakusogan-Plus is recommend to people suffering from poor digestive functions without any specific cause. Always keep it handy together with your other household medicines and take it in accordance with your symptoms either before or after meals.

---
【Effect-Efficacy】
Loss of appetite (dysorexia), bloating around stomach and abdomen, maldigestion, dyspepsia, after excessive eating and drinking, heartburn, heaviness in stomach, chest discomfort, nausea, vomiting
【Dosage and Administration】
Take the following amount of the medicine with water or warm water 3 times a day, either before or after meal.
Adults (15 and over): 20 pills / 11 and over - less than 15: 13 pills / 8 and over – less than 11: 10 pills / 5 and over – less than 8: 6 pills / 3 and over – less than 5: 5 pills / less than 3: Do not take this medicine
<Ingredients> 
Per 60 pills (typical daily adult dose)
Phellodendron Bark Extract / 1800mg,
Phellodendron Bark Tincture&nbsp / 33mg,
Powdered Geranium Herb / 500mg,
Powdered Atractylodes Rhizome / 500mg,
Powdered Zedoary / 500mg,
Powdered Corydalis Tuber / 350mg,
Powdered Japanese Gentian / 100mg,
Powdered Swertia Herb / 16mg
As additive, also include Carmellose Sodium, Talc, Powdered Acasia, Medicinal Carbon


<Warnings>
1. Consult medical specialists on taking this product with medical treatments.
2. In case of no effect over a month, stop taking this product and consult medical specialists showing the attached instructions.
3. Read the attached instructions carefully before taking the product.
4. Store sealed in cool place without direct sunlight or high humidity.
5. Keep this product out of reach of children.
---
■Combined Herbal Medicines
Name of Herbal Medicine: Phellodendron Bark
Japanese Name: Kihada
Used Part: Cortex excluding the cork layer

Used for symptoms such as stomach inflammations, gastrointestinal diseases, backaches, diarrhea, and jaundice, as bitter stomachic, intestinal remedy, antiphlogistic, or astringent.

Name of Herbal Medicine: Geranium Herb
Japanese Name: Gen-no-shoko
Used Part: Above ground level

The Japanese name Gen-no-shoko (actual proof) derives from its immediate effect. Used for antidiarrhea medication, intestinal remedy, diuretic, and restorative, and also used for external usage.

Name of Herbal Medicine: Atractylodes Rhizome
Japanese Name: Okera
Used Part: Rootstocks

Used for water metabolism disturbance to improve the symptoms caused by retained body water. Used for those who have weak stomachs to improve various symptoms which accompany when maintaining stomach and intestines. Used for stomachic and intestinal remedy.

Name of Herbal Medicine: Zedoary
Japanese Name: Gajutsu
Used Part: Roots

Used for symptoms such as indigestion, menstrual disorder, and colic, as aromatic stomachic, carminative, painkiller, or emmenagogue.

Name of Herbal Medicine: Japanese Gentian
Japanese Name: Rindo
Used Part: Rootstocks and roots

Bitter stomachic which has stimulatory effects on saliva, pancreatic juice, bile, as well as gastric juice. Used for symptoms such as digestive irritation and hyperemia because of its anti-inflammatory action.

Name of Herbal Medicine: Swertia Herb
Japanese Name: Senburi
Used Part: Whole herb during the flowering season

The Japanese name Senburi derives from its strong bitterness that it is still bitter after being decocted one thousand (sen) times.Used for gastrointestinal diseases as bitter stomachic or intestinal remedy, and also as hair growth tonic and for skin diseases.

Name of Herbal Medicine: Corydalis Tuber
Japanese Name: Engosaku
Used Part:Tuber

Used for protect such as stomach mucous membrane symptoms. It also exerts an analgesic effect.
---