History of Hino-Seiyaku
【History】
Jul. 1947
Founded Hino-Seiyaku Partnership Corporation
Feb. 1967
Changed the company name to Hino-Seiyaku Corporation
Mar. 1970
Newly constructed the buildings and transferred the head office and factory to the current locations
Nov. 1977 
Inaugurated a new factory compatible with GMP
Apr. 1983
Opened directly owned premises in Mitake-mura: Satomiya shop
Jun. 1983
Opened directly owned premises in Otaki-mura: Otaki shop
Jan. 1987
Inaugurated the head office's new company premise and extension/reconstruction of the factory
Mar. 2005
Built the Nagoya branch office in Naka-ku, Nagoya
Apr. 2005
Opened Narai shop in Narai, Shiojiri-shi
---
【History of Hino-Seiyaku】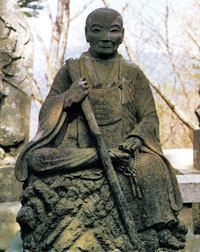 It is said that the history of "Hyakuso" began at the end of the Edo period, when a mountain ascetic who received the message from Ontake daigongen (great incarnation of the Ontake spirit), which was enshrined at Kiso Ontakesan, taught the villagers to decoct the inner barks of Phellodendron that grew naturally at the foot of Ontakesan to make medicine. It was spread and manufactured throughout the northern part of 11 post stations on Nakasendo in Kiso, Narai to Kiso Fukushima, Mitake, and Otaki as house medicines. Hinoya was an inn at Yabuhara juku on Nakasendo in the Edo period and was selling Hyakuso to the believers of climbing Ontakesan and travelers. Its roots can be traced on the stone monument placed in the remote worshipping shrine on Torii Mountain Pass in Yabuhara.
 In 1947, the 11th generation of Hinoya, Bunpei Hino, founded "Hino-Seiyaku Partnership Corporation", placed the head office in Yabuhara, Kiso-mura, and officially started manufacturing Hyakuso, Hyakusogan, and Kiogan. In March 1967, its name was changed to Hino-Seiyaku Corporation, which has been kept till today.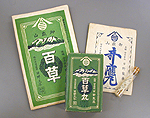 The name "Hyakuso" derives from the historical event in China that "Shennong licked Hyakuso to check its efficacy", "Effective for 100 (hyaku) diseases", or "Effective as if 100 herbal medicines are combined". Tracing back its history of blending in with the history and climate of Kiso and gaining trust from many people, there were efforts of numerous pioneers. Reflecting the tradition, Hino-Seiyaku intends to pursue our studies to bring out even more beneficial effects of "Hyakuso" (Phellodendron).